Over the years duplex stainless steel usage has increased drastically. This can be attributed to a combination of market growth along with the four properties of duplex stainless steel that we discuss in this blog.
The name "duplex" was chosen for these alloys because they have a twophase microstructure consisting of ferritic and austenitic stainless steel. The microstructure of duplex stainless is roughly 50% austenite and 50% ferrite. This type of microstructure results in bringing out the best properties of both austenite and ferrite. Below, we explain why strength, corrosion resistance, ease of fabrication and cost are top four reasons customers are replacing convent stainless steel with duplex stainless steel.
STRENGTH: Duplex stainless steels are about twice as strong as regular austenitic or ferritic steels. They also exhibit better ductility and toughness compared to ferritic steels. Due to its high yield str ength, using duplex stainless can provide significant weight savings as thinner sections can be used. Weight saving can be a significant advantage for applications such as pressure vessels, storage tanks and structural applications.
CORROSION RESISTANCE: The composition of duplex stainless steel is what sets it apart from regular austenitic and ferritic grades when comparing corrosion resistance. Duplex stainless steels are less prone to Stress Corrosion Cracking (SCC) than austenitic steels like 304 and 31 6. Although there is no single measure of corrosion resistance, to rank the different grades, the Pitting Resistance Equivalent Number (PREN) method is often used. The formula for this is PREN = %Cr + 3.3 x %Mo + 16 x %N.
EASE OF FABRICATION: Duplex stainless steel is often more formable under pressure than ferritic grades. Although duplex grades are 50% ferritic, it is the 50% austenite that makes them easier to fabricate than conventional stainless steels. Duplex stain steels also show better weldability in thick sections compared to other ferritic and austenite stainless steels.
COST EFFECTIVE: Along with the benefits listed above, duplex stainless steels are often the lower cost option compared to traditional austenitic grades. The price of duplex is us ually more stable than regular stainless grades, which makes it easier to estimate costs.
To learn more about the duplex stainless steel grades we stock, click here.
Please contact the Rolled Alloys Metallurgical Services group at 1-800-521-0332 or email us metallurgical-help@rolledalloys.com if you have additional questions.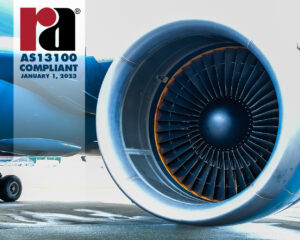 RA News
On January 1st, 2023 a new Aerospace standard titled AS13100 went into effect for the aerospace engine supply chain. Rolled Alloys is happy to announce that we are compliant to AS13100!