We are proud to have these brave men and women a part of Rolled Alloys! A special thank you to every Veteran on our team for your service.
Cincinnati – Michael Benzing, Taylor Clem, Conner William, Dennis Harris, Jeff Hughes, John Maguire, Darin McKnight, Gary Schoultheis, Tim Mays
Chicago – Ricardo Gavina, Robert Shavier
Houston – Eugene Gutierrez, Reynaldo Negret, William Martin
LA – John Lopez
Richburg – Vernon Young, Lamont Walls, Alejandro Briceno
Temperance – Jim Emmert, Ted Rough, Aaron Mosley, Joshua Moore, Joshua Messerole, Justin McDonagh, Cedric Matchett, Steven Hickman, Dawn Griffin, Martin Gray, Donald Fleitz, Robert Draper, Thomas Daigneau, Karim Abuaqel
Tulsa – Joe Whitaker, Jennifer Willis, Jason Horan
Windsor – Phil Parenteau, Stephen Clay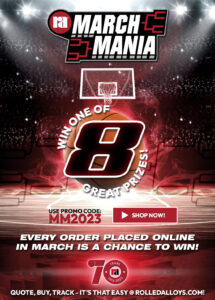 RA News
Every order made online in March is a chance to win 1 of 8 great prizes!