The Leader in Specialty Metals
Quote, Buy, Track... It's That Easy!
INSTANT QUOTING
Any time, from anywhere, on any device. Get competitive pricing with just a few clicks!
ORDER ONLINE
Enter your PO number, select payment terms, and click Place Order. It's that easy!
TRACK YOUR ORDER
Once you place your order, track its progression through our facility until it lands on your dock!
CHAT WITH A SALES REP
Our highly-trained sales teams from all of our 8 US locations are available to chat from 8am - 8pm EST.
I am very impressed with this online ordering platform. Being able to select CMTR requirements is a huge benefit and time saver from the normal back and forth with certs from other vendors.
Dan L.
Rolled Alloys has always come through for me when I need orders fast. Very professional and a great company to work with.
John T.
Always a quick and easy process using the RA site! Best in the business!
Warren R.
Another smooth transaction - this site is one of greatest around for ordering material!
Joe. G.
So easy to get quotes and order material! Best online program ever!!
Rick G.
Always 5-Stars!! If you communicate your needs to this incredible sales team they will do everything possible to help.
Galen H.
Placing an order with you guys is so easy. I wish it was this easy on other web sites! Please keep up the good work!
Paul G.
Our E-Services stocking programs position you in the driver seat by using our customized purchasing options to order your recurring material with ease. Whether you have an internal process for purchasing and receiving in place or maybe looking for other solutions to become more efficient, we have a program that will work for you.
The best part – our programs come with no additional cost.
With multiple different types of processing, we have exactly what you are looking for! Look through our list of processing capabilities or chat with a sales representative about which processing method would be best suited for your order.
Rolled Alloys has a Metallurgical Services team dedicated to serving our customers, by providing both knowledge and laboratory services. This team is comprised of degreed engineers and metallurgists who maintain membership in technical societies, trade associations, and business networks to keep up to date with state-of-the-art alloys and applications.
Our laboratory has the capability to perform metallurgical and failure analyses, high-temperature oxidation studies, corrosion testing, and determination of critical pitting temperatures.
Our trained staff has the expertise to field customer questions, help customers solve materials issues, answer questions on material properties, capability, suitability, and more. Please contact our metallurgical staff for assistance in answering your materials-related questions.
Why Choose Rolled Alloys?
Built on 70 years of technical expertise, Rolled Alloys is a premier material supplier known for quality. Our extensive inventory, advanced processing capabilities, and value added services make Rolled Alloys first choice in specialty metals.
Comprehensive inventory
State-of-the-art material processing
Dedicated teams of industry experts
Best in class e-commerce site
Metallurgical expertise & assistance
Our focus is on you, the customer. We strive everyday to understand your business and provide you with excellent service specifically designed to meet your needs.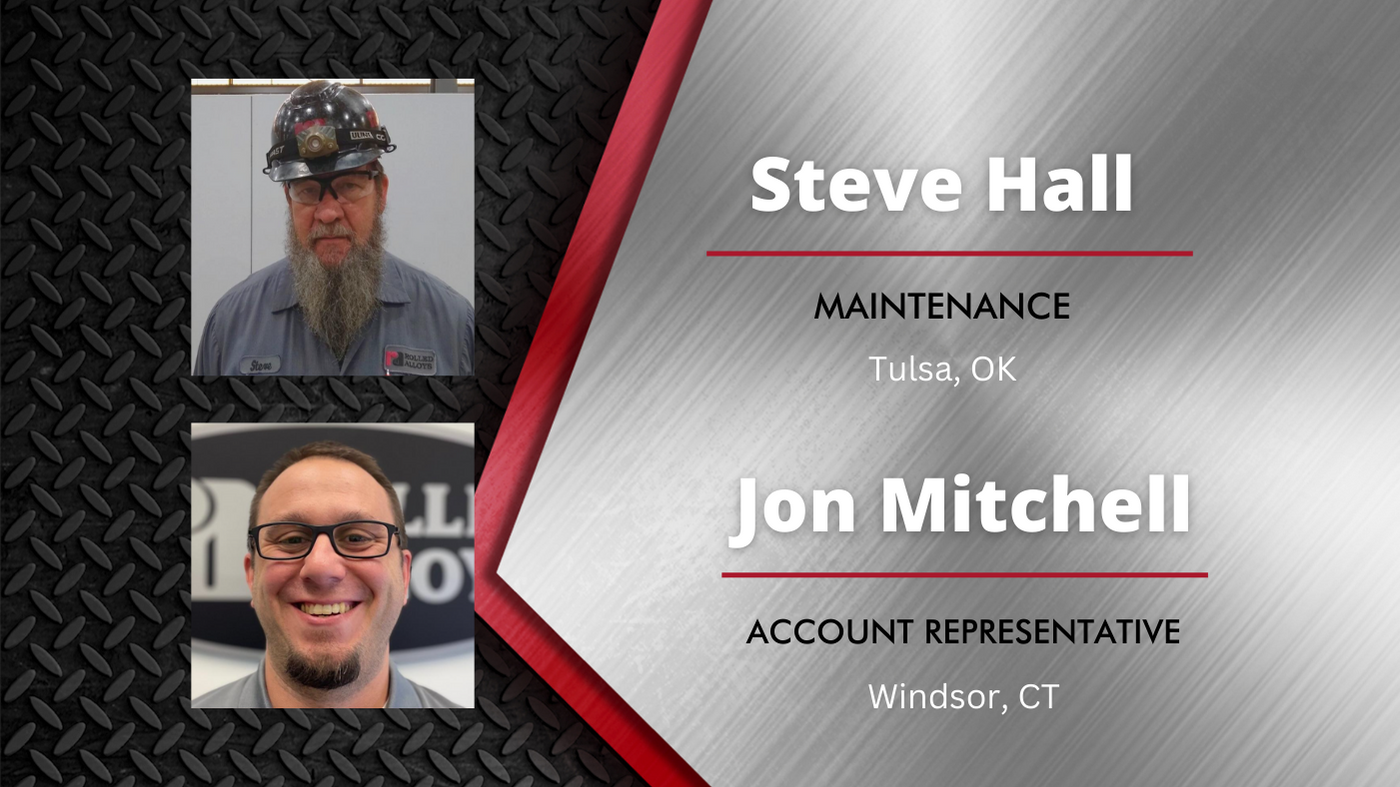 Employee Spotlights
May Employee Spotlight Steve Hall & Jon Mitchell Back To All Articles Share: More Articles Quote, Buy, Track! We make it easy to get instant